Your first Christmas as Mr & Mrs is so much fun! Combining your Traditions, making new traditions, and getting presents for each other were my favorite parts of mine and Trent's first Christmas! Our first Christmas was filled with framed wedding pictures, fun Mr and Mrs ornaments, and so much more. That being said, buying holiday gifts for your husband or wife can be hard and stressful! Below I've compiled a list from a few different shops to give you some options!
etsy
GENTLEMAN'S GIFT SET FOR HIM
This gift set is perfect for the gentleman in your life!
"Classic gentleman's gift set complete with cuff links, money clip, tie clip, and wood gift box, all included as per photo. There's nothing not to love about these timeless keepsakes. We engrave anything you want on all four items, they can be all the same or all different"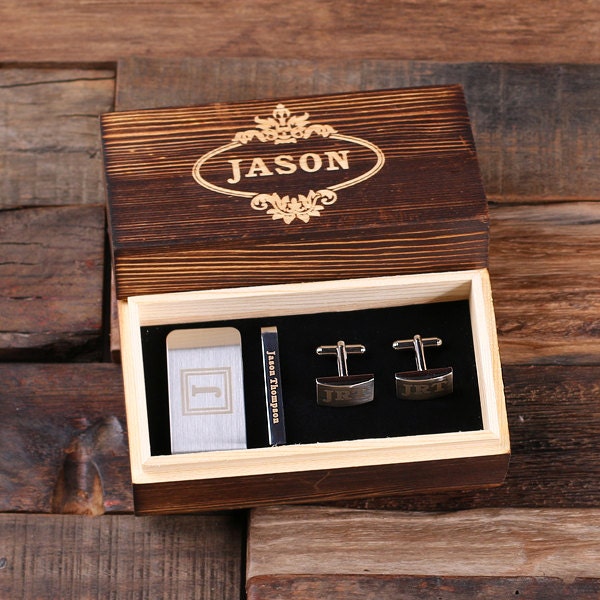 TealsPrairie, $34.99, Personalized Gentleman's Gift Set
RING DISH FOR HER
This customizable ring dish is perfect for your wife to set her beautiful wedding ring in.
"Perfect for the bride to be, someone that's already hitched, or, just treat yourself! Simplistic designed with the lovebird's initials. Ring dish is white ceramic with dark grey text and is 3″ diameter."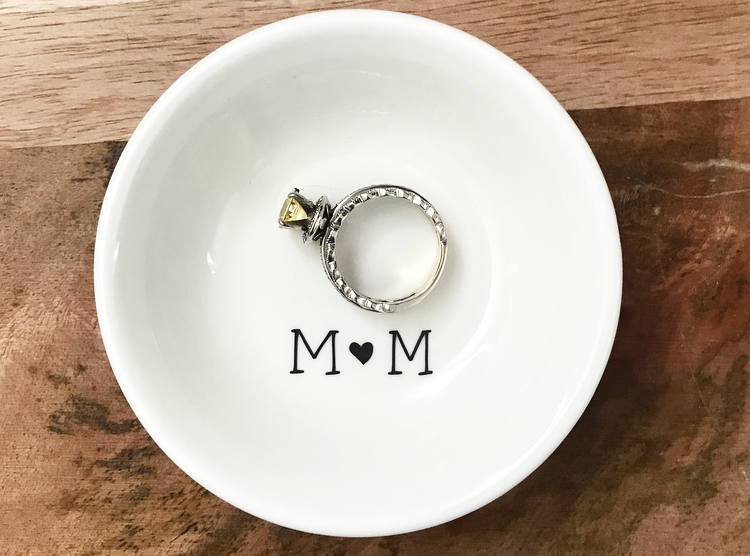 Happylittlehomeshop, $14.49, Ring Dish Engagement Gift
CUSTOM DOORMAT FOR THEM
This customized doormat is sure to welcome all your guests to your new home!
"Custom hand-lettered doormat with your family name! This last name doormat also makes for the perfect housewarming gift and wedding gift. There's nothing like receiving such a special personalized gift!"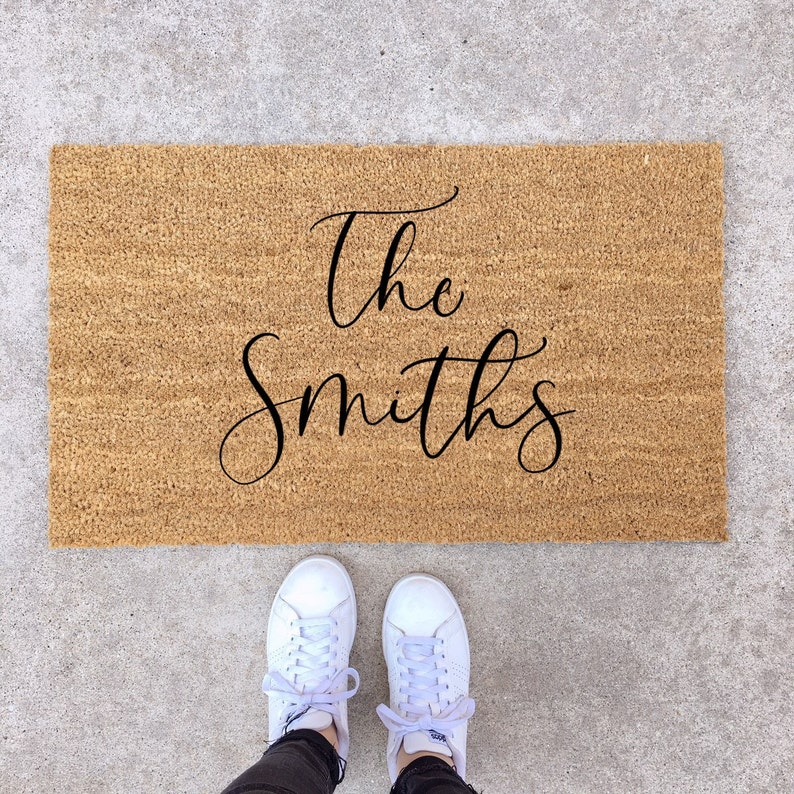 Properletter, $59, Custom Last Name Doormat
WEDDING CUSTOM PORTRAIT FOR THEM
I am IN LOVE with this!! I want one for myself (hint hint Trent 😉 )
"A beautiful one of a kind piece of art – completely customized with tons of personality. Tired of stuffy family portraits? Try something fresh!! Each piece is totally customized to fit each family member's personality! You can purchase this as a Printable or as a Print!"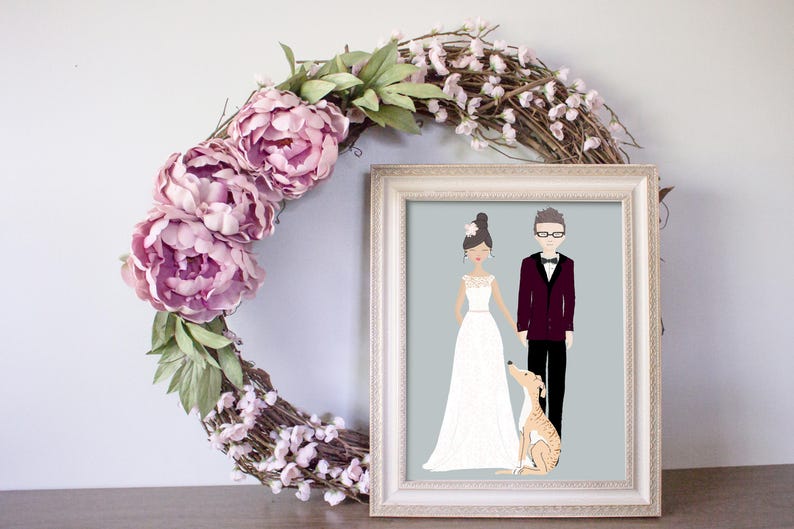 Unearthedpaperco, $45.10+, Wedding custom portrait
Target
BATH BOMB SET FOR HER
Seriously, a hot bath with bath bombs will make everything better!
"A warm fizzy bath, for that soft fuzzy feeling. Our Love Beauty and Planet Coconut Water & Mimosa Flower bath bomb and Paraben Free Body Wash are perfect for your pampering bath!"

Target, $9.99, Love Beauty and Planet Body Gift Set
HARRY'S SHAVING SET FOR HIM
I've heard nothing but good things about Harry's Razors!
"Harry's Holiday Gift Set comes packed with all the trimmings for a close, comfortable shave: durable blades, aloe-infused Shave Gel, cooling Post-Shave Balm, and a handy travel blade cover. This handsome-as-it-is-useful gift has both seasonal charm and year-round appeal."

Target, $14.99, Harry's Holiday Gift Set
KEURIG K-MINI FOR THEM
Trent and I have one of these and we LOVE it! We don't drink coffee but let me tell you, we use it all the time for hot chocolate, hot cider, I even use it just to make hot water to use elsewhere in the kitchen!
"The Keurig K-Mini single-serve coffee maker features a sleek design with a matte finish, and at less than 5" wide is the perfect size for any space or occasion. The K-Mini brewer is effortlessly simple to use – just add fresh water to the reservoir, pop in your favorite K-Cup pod, press the brew button and enjoy fresh-brewed, delicious coffee in minutes."

Target, $69.99(sale), Keurig K-Mini Single-Serve Coffee Maker
Amazon
BEAR'S BEARD BEARD BIB FOR HIM
I promise you that you will not regret getting this for your husband. Trust me, hair all over the counter and sink are FRUSTRATING! Even those husbands who are super careful get some hair around the counter.
"Begin grooming and watch your beard trimming's fall neatly down into the apron for easy collection and disposal. No more mess, blocked drains or aggravated significant others!"

Amazon, $13.45, Bear's Beard Beard Bib
WIFEY TUMBLER FOR HER
Having a hot/cold cup (or a tumbler) is wonderful for anyone! But, one that says wifey…will be a HUGE WIN gift!
" 12 oz Mint Insulated Double Walled Stainless Steel Stemless Wine Glass Travel Tumbler with clear lid and matching straw with the saying, "Wifey" ENGRAVED in a scripted font on the front of the wine tumbler"

Amazon, $16.49, Wifey 12 oz Mint Stainless Steel Insulated Tumbler with Lid and Straw
BRUSHED MICROFIBER BEDDING FOR THEM
We have 3 sets of these sheets! That is how much we love them! I promise you, you'll be sleeping better and more comfortably!
"Microfiber sheets are breathable, keep moisture away. Comes in Twin, Twin XL, Full, Queen, King, Split King and California King. These luxuries bed sheets stay fresh, cool during hot nights and warm in cold nights – leaving you and your family rested and ready for a new day."

Amazon, $29.70, Mellanni Brushed Microfiber Bedding
I'd love to know what your favorite holiday gifts are that you've received over the years! Let me know in the comments below!